Good morning readers!
Today marks my last full day at home. I've already got the suitcase packed so I'm spending the day seeing a couple friends, some time with my parents and some time organizing clothes into piles I can donate or keep.
Yesterday morning I woke up to a lot of text messages so I wasn't really able to sleep in. It ended up being a good thing since we had an impending snowstorm coming our way, I wanted to get out and try and hunt for a great sweater bargain before it got too messy. First, I made breakfast.
I made a 2 ingredient pancake topped with Cinnamon Raisin Swirl PB and washed it down with a glass of milk with blueberries on the side 🙂
Although I wasn't successful in finding any sweaters that I loved, I ran into a friend from high school, got a pair of 5 dollar gym shorts and scored the BIGGEST bargain I think I have experienced to date.
I bought this sweater dress for $5.16 from Ann Taylor Loft. It was the only one in the entire store and I eyed this girl trying it on so I asked her where she found it. She ended up not wanting it (WHY?!?! I will never know) so she told me she left it in the dressing room. I'm so excited to wear it for NYE! 🙂
When I got out of the store, I realized how quickly our town was turning into a winter wonderland and how fast the snow was coming down.
Once I got home I was starving. My breakfast did a good job of holding me over awhile though. Nonetheless, the first thing I did when I got home was reheat my chili and add some guacamole to it for a little kick.
Then I was home for the day due to all the snow and had to cancel some of the plans I had made and my family friend ended up getting the flu so I won't be able to see them this break 😦 Although I was bummed, it was great to have some time to myself and my parents. I ended up napping for awhile too. Then I decided I should show you guys some of my Christmas presents!
I also got this jacket from lululemon (it's in the wash currently) and these running tights, but we had to exchange the size.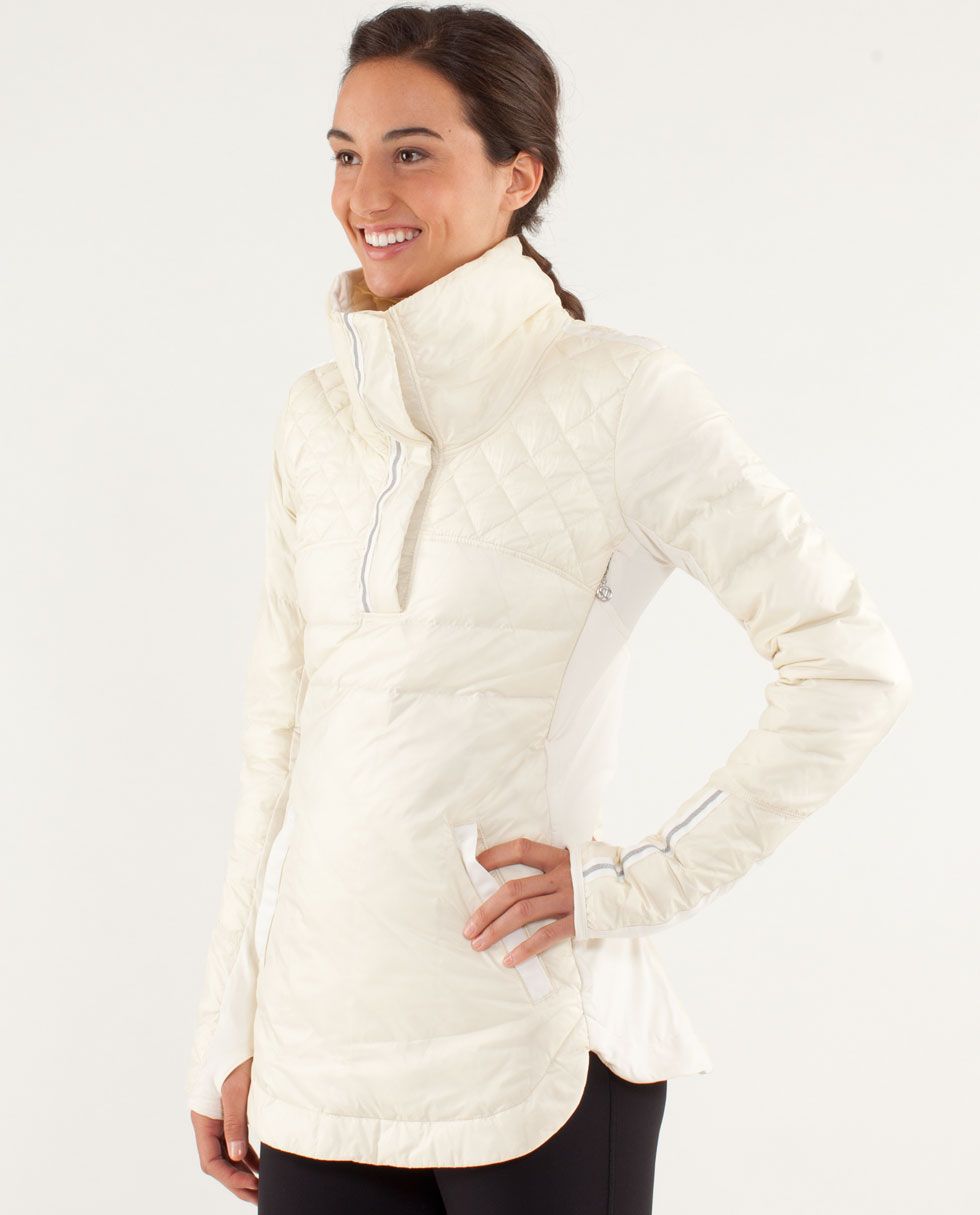 I am so fortunate to have gotten so much quality running apparel from my family. I also got a bunch of small things, like a great new nail polish color I've been rocking in my pictures, but figured you guys would be more interested in the big stuff.
After my nap, I lounged around for quite awhile watching Scrubs, Glee and eventually making a big salad for dinner. So big I actually had to move it from a bowl into a mixing bowl haha. 
In the bowl was spinach, zucchini, tomato, avocado, shrimp, cranberries, orange bell pepper, mushrooms, and beets in a balsamic vinaigrette. As if I didn't have enough veggies in there, I also enjoyed a side of steamed asparagus. The dinner was absolutely what I was craving and filled me up. I enjoyed a couple bites of this local vanilla ice cream afterwards.
I then went outside to try and capture how beautiful the snow looked, but I'll have to get some better shots of it today instead.
I hope you're all having a wonderful Sunday!
Until next time,
Natasha