Happy Monday everyone! It's back to the grind one last time before the Holidays!! We're so close, hang in there!
My Sunday was off to a very slow start. Which was a good thing! So many times I run all around and try and fit a bagillion things into my schedule. It's important to remember to slow down and enjoy yourself, especially when such a horrible event takes place. Growing up in Connecticut, the shooting that happened at Sandy Hook Elementary hits very close to home. Fortunately, my relatives and friends do not live in the area, but I do know a close family friend who teaches in Newtown. I put a call into them, but I do believe they are alright. My heart goes out to those who are suffering during this time.
With that in mind, it's been good to focus on the things I can appreciate in my life currently that I am extremely lucky to have. Kevin also pointed that out last night, to take a moment to appreciate the wonderful set-up I'm lucky to be a part of right now and not always daydream about the future or how everything could be better (which is funny because I used to do that for him! It's good we can do this for each other though)
So Sunday I woke up late, around 11 and started to figure out what my plan was for the day. An old friend who was in town mentioned Eastern Market, my roommate Autumn wanted to watch Inglorious Bastards, but while waiting to hear back on the first plan Autumn and I decided to pick another day. All in all no plans ended up being made – but I held true to my goal of doing some Christmas shopping!
First things first, I was starving when I woke up. I snacked on a couple prunes to hold me over until I could make some breakfast.
Love prunes. After blogging and catching up on a couple things I was super hungry so I went back to the kitchen for some cereal and blackberries. Yum!
In the bowl was some skim milk, Pumpkin Flax Granola, and Total Multi-Grain Flakes and, of course, my blackberries.
It was super filling which was great! Around 2 Kevin started making "breakfast", I wanted a little bit of peanut butter so I snacked on half a piece of toast and he whipped me up my first Sunny Side Up Egg.
After that we got moving and headed out the door around 3. We decided to bike to all our shopping destinations of the day. I was so happy with this decision ultimately because I wasn't sure I wanted to do a in-house circuit workout or take the day off. However, biking was a great form of exercise and got us where we needed to be really quickly!
First stop, the running store! Kevin did a lot of research on which present to get me, but knowing me, decided to share his thoughts and opinions with me rather than give me something different, even though it might better, than what I asked for on Christmas. From there we started doing a lot of research together, but wanted to see the watches in person. I was deciding between the Garmin Forerunner 10 and the Forerunner 210.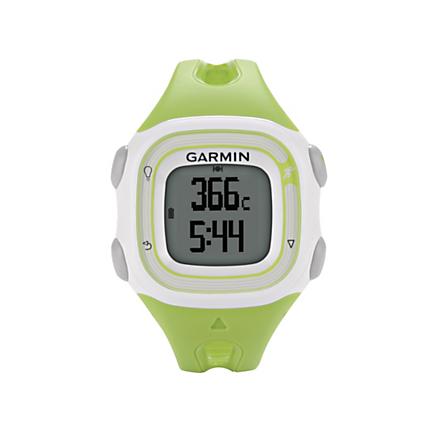 We originally set our budget for between $50 and $75 dollars because we bought a lot of big ticket items for each other throughout the last year. We also decided we wanted to do less "big" presents and focus on smaller, more meaningful gifts. I was joking with Kevin because the Forerunner 10 runs at $129 and the Forerunner 210 at $199 (due to the capability to be a Heart Rate Monitor as well). I told him no matter what, he was going over budget! (The original watch on my list, Timex GPS Marathon runs at $99). He insisted that this is what he wanted to get me and had the money to do so.
Once we got to the store, we liked the fit of both, I have THE world's smallest wrist so they are going to look kinda bulky either way, but ultimately decided on the ForeRunner 210 since I know I want to have a HRM down the line, it's better to have the all-in-one watch versus one that can do only one function. Both have Garmin Connect though (a program that uploads all your running data to your computer and provides a TON of feedback) which was what won me over on the Garmin versus the Timex. We ordered it off Amazon (to avoid taxes and shipping and the store didn't have the white) so it'll be here Wednesday!!
I proceeded to ask the woman who was helping us about running shoes (another item I put on my Christmas List and Kevin was deciding between the watch and the shoes). I had done some research on this as well and felt confident I wanted to switch from running with Mizuno's to Brooks. Well, I picked the right woman. Not only was she sporting one of the Brooks shoes I was looking at, but she was extremely knowledgeable about all of their features, design specs, and differences. I tried on the PureConnect and the PureFlow (part of the Pure Project…check it out!!)
Although the purple color was enticing on the PureFlow's, I ultimately chose the PureConnect. They are an approach to a minimalist shoe so they bring you down to 4mm (as opposed to 0mm in a minimalist shoe). I felt SO connected to the ground while testing them out and decided that's the experience I want going forward as a runner – or at least to test out 🙂 They were on sale for $69 bucks. TOTAL DEAL. So I purchased them for myself 🙂 Merry Christmas to me and my feet! I also got a pair of shorts on sale.
I'm also super glad I tried them on. I'm normally a 6.5-7, 7.5 in running shoes, but I never would have guessed I was an 8! If I had the money, I definitely would have also bought the PureFlows and used them as my competition shoe. Who knows what the future will hold though 🙂
Next we were off to the Verizon Store to look at phones for Kevin, then to the apple store for some Mac questions, then back to the Verizon Store. Kevin ultimately decided he wanted to do even more research on all of the Android phones currently on the market, once he decided against the HTC Windows 8 phone. At this point, I was starving. We had a Groupon for The Burger Joint so off we went!
I ordered "The Burger" with "The works" except with the Mojo sauce on the side. It came equipped with lettuce, tomato, grilled onions, and pickles. I chose grilled asparagus with Parmasean cheese sprinkled on top and a Strawberry Milkshake. They put chunks of fresh strawberries in it, which makes it even more delicious! Kevin ordered the same thing, except for a Chocolate Shake and Sweet Potato fries. It's a bit on the expensive side, but for me it's worth the indulgence once in awhile.
After that, we biked back towards home and stopped at Safeway on the way for some cat food, and random supplies. We picked up eggnogg, since I've never tried it before, so I'm excited to give it a go. I'm gonna look up some recipes and see what it would be good to pair with!
As soon as I was inside I popped my new shoes right on and began to walk around in them, as suggested by the woman at the store. I'm seriously so in love with them. I'm even wearing them at work right now! 🙂
Some interesting facts about these bad boys is the shoe is completely biodegradable in 25-30 years (most running shoes take at least 1,000 years!), the shoelaces are made entirely from recycled materials and it's a completely vegan shoe! Way to go Brooks! I think you've sold me 🙂
Until next time,
Natasha